Electric Range, Explained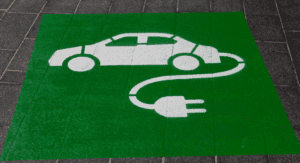 When looking to buy or lease an electric vehicle (EV), the electric car range is perhaps the biggest factor to consider. At LaFontaine Buick GMC Ann Arbor, we love helping customers like you find the perfect EV model to match your lifestyle and budget.
Learn more about what makes the electric range so important, then browse our inventory of EVs online, or stop by our dealership to meet with any of our expert dealers.
What is Electric Range and Why Is It Important?
The electric range is the total distance your EV can travel on a single charge. Depending on your daily commute, how frequently you travel long distances, and the availability of public charging stations in your area, the electric range can make or break the decision to buy an EV.
How Far Can an EV Travel on a Single Charge?
Like the miles per gallon of a fossil fuel car, the total electric range of an EV varies from model to model. Currently, the combined range of EV spans anywhere from 100 to 500 miles. When shopping for an EV, the first question to answer is the combined electric range of the model you are hoping to buy.
Factors that can Negatively Impact Electric Range:
Outside temperature
Travel speed
Drag
Vehicle weight
Highway versus city drive-style
How Often Will I Need to Recharge My EV?
Just like gas-powered vehicles, the number of times you will need to recharge your EV depends on a variety of factors; most importantly, how far you travel day to day.
If you are making short trips to the office or around town to complete errands, you may only need to recharge your vehicle on a weekly basis. If you have a longer commute or find yourself in the car for hours several times a week, you will need to recharge more frequently.
What Happens When I Run Out of Battery?
Just like any new or pre-owned GMC vehicle needs to refuel before the tank hits empty, an EV vehicle needs to be plugged in before the battery is depleted. That means routinely using an at-home charging cable and standard or specially installed wall outlet for a Level 1 or Level 2 charge. For long-distance travel, publicly available DC Fast Charging stations are available.
Shop Our EV Inventory Today
The friendly dealers at LaFontaine Buick GMC Ann Arbor can get you behind the wheel of a new GMC HUMMER EV to test drive for yourself. See why people love the lightweight feel of the eco-friendly EV model. We look forward to serving you soon.