Electric Vehicle (EV) Service and Maintenance Guide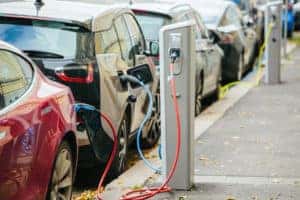 Between rising gas prices and growing environmental concerns, drivers are looking to electric vehicles (EVs) to help combat both. While you may be familiar with the rigorous maintenance needed to upkeep a traditional gas car or SUV, EV service is relatively less intensive.
Here at LaFontaine Buick GMC Ann Arbor, we're happy to provide you with some insight into what EV service and maintenance looks like.
EV Battery Maintenance
Since your new EV doesn't use a combustion engine, it doesn't require oil — or oil changes, for that matter. However, its electric battery is the heart of the vehicle, and it requires regular maintenance checks to keep it in top shape. Most EV car batteries can surpass 100,000 miles with regular servicing, but you can avoid premature issues with some simple tips:
Avoid parking an uncharged EV for too long
Avoid charging the battery to 100% (80% is better for the battery's cycle life)
Consuming battery power with multiple in-vehicle devices
To ensure your battery's long life, schedule EV service on a regular basis.
EV Filter and Fluid Maintenance
While your electric vehicle doesn't use motor oil, it does use many of the same fluids as a gas vehicle. Its engine cooling system requires coolant refills and routine inspections. EVs also use windshield wiper fluid just like traditional vehicles, and it needs to be topped off occasionally.
Also, most EVs incorporate a cabin air filter that reduces pollen, road dust, dirt, and other potentially harmful particles. This should be replaced every two to three years to ensure clean air for you and your passengers.
EV Tire and Brake Maintenance
Just like every other vehicle on the road, your EV will need a tire rotation every 5,000-10,000 miles to ensure even wear. Uneven wear can lead to early degradation of your tire's treads and expose your vehicle to a potential roadside emergency. While our certified Buick GMC technicians are focused on your wheels, they will also check your EV's braking system and wheel alignment to further ensure your safety.
EVs incorporate regenerative braking, which transfers kinetic energy to the battery and makes braking easier. This keeps the vehicle's brakes in better shape for longer, but that doesn't mean they'll last forever. You'll need to have the brake fluid topped off or changed regularly, so trust our techs to perform this service and a full inspection at least once every 24 months.
If you have any questions about EV service, or you want to build your own GMC Hummer EV, come see the friendly professionals at LaFontaine Buick GMC Ann Arbor. We're ready to serve you!