LaFontaine Buick GMC Ann Arbor Presents: Understanding the Three Levels of Charging an EV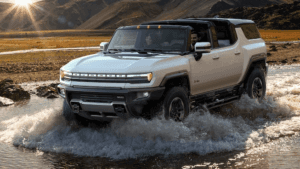 Whether you drive a hybrid or a GMC electric vehicle, it's nice to know there are three levels of charging available. Depending on your lifestyle and the model you own, you might find one or more of these options appealing.
Level 1 Charging
Level 1 charging is available through a standard 120V wall outlet. Take the mobile charging cable that comes with every EV sold at LaFontaine Buick GMC Ann Arbor, and plug one end into your car and the other into the outlet.
Level 1 charging is the simplest method of EV charging, but it also takes the longest. In fact, even if you leave your car plugged in overnight, you probably won't have a fully charged battery come morning – instead, you'll likely have around 60 miles of range. Depending on the amount of daily driving you do, you might be OK with this. If not, there are two more levels to consider.
Level 2 Charging
Level 2 charging provides twice as much electricity (240V) as level 1 solution, so an overnight charge ensures a full battery when you start your day. However, unless you have access to this amount of power in your home (i.e., through a socket that typically powers a high-energy appliance such as a washing machine), you'll need to visit a public charging station.
Public charging stations are commonly found in the parking lots of office buildings and retail locations and include everything you need to charge your EV. If you want to install a level 2 charger in your home, our GMC service team is happy to answer any questions you have about the installation process.
Level 3 Charging (or DC Fast Charging)
Level 3 is the fastest level of EV charging that's currently available. In fact, it only takes around 30 minutes to obtain an 80 percent charge. The GMC components and Buick parts involved in Level 3 charging are different than the setup for Levels 1 and 2.
A level 3 charging station delivers 480 volts, which is converted to a direct current (DC) before reaching the vehicle's battery. This provides a considerable increase in charging speed, akin to filling up a gasoline engine to 'full'.
Shop for an Electric Vehicle Today
Head to our GMC dealership in Ann Arbor, MI for an electric vehicle and you'll find not just a terrific selection, but all of the parts, service, and financing support you need. Contact us today to schedule a full walkthrough and test drive.