Reasons to Consider Getting One of Our Electric Cars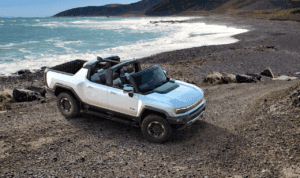 Drivers searching for new cars for sale in Saline, MI are invited to take the short ride over to our location to view our electric cars. Electric vehicles like the GMC Hummer EVs in our lineup are the perfect models to show off the GMC brand's Ultium Platform while Buick EVs will all have the Electra nameplate. Able to deliver 100 percent of torque immediately, EVs are more fun to drive than ever before.
Eco-Friendly Design
Being Michigan GMC dealers, we can tell you that electric cars have more to offer than their fun-to-drive nature. They also have an eco-friendly design that helps protect the environment from harmful emissions.
All-electric vehicles don't consume fuel at all. Instead, they rely on electricity exclusively for power. Since an electric motor propels an EV instead of an internal combustion engine, EVs don't release any emissions into the atmosphere, making them the eco-friendliest automobiles you'll see on the road.
Lower Cost of Ownership
When you visit LaFontaine Buick GMC Ann Arbor to view our electric cars, you'll see that they're lacking some parts you probably expect an automobile to have. For example, EVs don't have exhaust systems because they don't run on fossil fuels. They also don't have internal combustion engines, a standard car battery, or a gas tank.
Since they have fewer mechanical parts, you won't have to schedule an appointment to bring your EV to our Ann Arbor, MI GMC service center as often as you'd have to for a traditional or hybrid car. Fewer appointments with our GMC service center mean lower cumulative service costs over the course of your vehicle's lifetime.
You'll pay less to fuel an EV as well because you won't have to fill up with gas. The price of electricity is more stable than the cost of fossil fuels, which makes it easier to make a budget for your transportation costs with an EV.
Tax incentives
If you contact or visit our GMC finance center to inquire about the fiscal benefits of getting an EV, you'll be happy to know that you can qualify for a federal tax credit of up to $7,500 in the year you purchase an electric car. Only the owner of an EV is eligible for the tax credit, so lessees don't quality for any federal tax savings related to their electric cars.
Are you ready to enjoy the benefits that accompany getting an EV? If so, shop for electric cars at LaFontaine Buick GMC Ann Arbor today.